3 factors when you choose paint brush
Oct. 21, 2016
To get the best results when painting, make sure you choose the right paint brush. Brush quality and the right brush for the job will make all the difference.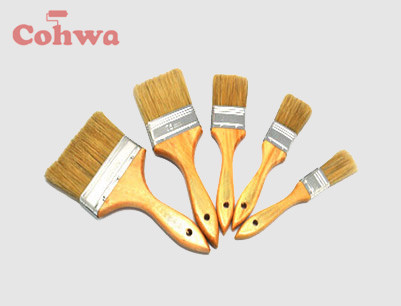 What are you going to paint?
For trim, paneled doors, furniture, cabinets or anything with grooves, or where you have to paint close to another surface (e.g. where trim butts up against walls), use an angular sash brush. Angular sash brushes, sometimes referred to as cutting brushes, make it easier to paint a clean line. For flat surfaces, like flat trim or non-paneled doors and flat furniture surfaces, use a flat paint brush. The flat edge on the brush will help to cover flat surfaces with fewer brush strokes.
How thick is your paint or finish?
Today's low VOC water-based paints tend to be thicker than older paints. These finishes require a stiffer brush. Brushes made with 100% polyester or with a combination of polyester and nylon are stiffer than 100% nylon brushes. Also, if you are painting during warm weather, use a brush with some polyester as nylon tends to soften at higher temperatures.
Are you applying a fine finish?
Fine finishes require a soft-tipped brush to eliminate brush strokes. For water-based finishes use a 100% nylon brush. There are also polyester brushes with specially tipped filaments (Crest and Zenith) that are formulated especially for these finishes. If you are using oil-based finishes, use a brush that combines ox hair for smoothness with Chinese bristle. (Oxangle, Oxford, Oxana)