Why more and more people choose microfiber paint roller?
Mar. 10, 2017
Microfiber paint roller is approved by contractor and shows professional results in case of painting. It is absolutely lint free and paints 50% more wall area with each load, thus it reduces labor and require less time to load the roller. Microfiber paint roller has low splatter facility and also bent low. Microfiber nap keeps painting from flying off its fibers. Most Microfiber paint rollers are made from woven materials and available in a variety of colors. Each brand is available different colors, but most of them are white, yellow or blue. Microfiber rollers are very popular in recent time.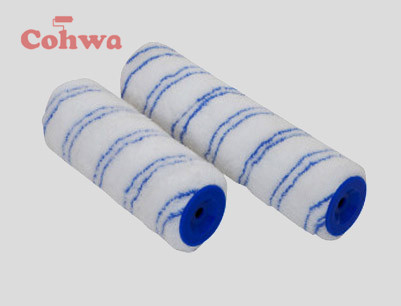 But how can you recognize a Microfiber paint roller- when you find a white roller cover with its diagonal blue stripes, you must understand that it is nothing but a Microfiber paint roller. Microfiber paint rollers are best used on light- medium textured surfaces. For smooth surfaces you must use a white-woven short nap roller. This will provide you with an extra ultra fine finish. Microfiber roller covers are very popular for better performance and better quality; they are available at competitive prices. Work great for any kind of paint.
Microfiber paint roller has some basic features like it has great paint holding capacity, low splatter and it is lint free. Microfiber paint roller produces super smooth finish in all surfaces. The surface you will paint determines the nap. The nap is the thickness of the woven cover. Thick 3/4″ nap roller covers are ideal for stucco, brick, and masonry. This thick nap can hold maximum paint and get into crevices on the rough surface. Medium 3/8″ nap covers are used in ceilings and drywall whereas small 1/4″ nap roller covers will produce the smoothest finish and used on walls or wood or metal surfaces. If you think this information is not enough for you, then you may log on this site cohwabrush.com.