Can I Paint an Old House by Myself?
Jan. 20, 2021
Of course, you can paint the wall by yourself, but you need to master certain basic knowledge. Here, Paint Brushes Supplier took some time to organize a copy of the wall paint skills and procedures commonly used by the decoration masters. I hope it can help those who want to paint by themselves.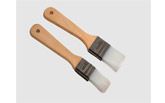 Nylon Paint Brush
Step 1: Shovel the wall.
Shovel away the damaged, peeled and loose parts of the wall and keep it dry.
Step 2: Apply [Wall Patching Paste]
Use a squeegee to evenly spread the wall patching paste on the wall to be repaired. The thinner repaired areas can be smoothed at one time, and the thicker areas need to be painted multiple times.
Step 3: After 12 hours, sandpaper
After the wall plaster is dry (usually 12 hours), lightly sand it with sandpaper.
Step 4 Apply wall paint.
Apply the wall paint evenly on the repaired wall. After it is dry, apply the wall paint again.
After the above four simple steps, the repaired old wall is basically completed.
Precautions:
1. The putty needs to be scraped twice, and the last putty cannot be scraped until it is dry.
2. Before painting, take protective measures for other areas that do not need to be painted.
3. Need to choose high-quality non-shedding brushes.
Our company also needs Nylon Paint Brush on sale, please contact us.