How to Paint Walls Correctly
Jan. 08, 2022
How to paint walls properly: The best paint coats don't hide uneven walls
Fill the holes with a lightweight filling compound and sand them smooth as they dry. Then sand the entire wall with 100-grit sandpaper mounted on a drywall sanding handle. The final setup for this job is a pole drywall sander with a 100-grain drywall sanding screen, but any method of sanding off old paint blocks and bumps will do. Next mask off the skirting boards and window and door trim. Slide the blade of a flexible putty knife along the edge of the masking tape to seal it. Otherwise the paint will bleed underneath.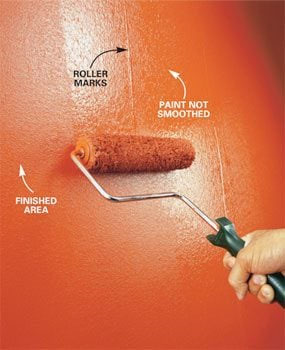 How to paint walls properly: Avoid thick edges and roller marks
Paint ridges or "fat edges" left on the edges of rollers are a common problem. If left to dry, they can be difficult to remove without a lot of sanding or touch-up. Here are a few ways to avoid this problem.
✳ Do not dip the roller into the paint to load it. The paint may seep into the roller cover and leak as you roll it. Try just napping. Then rotate it against the screen and dip it again until it is loaded with paint.
✳ Do not apply too much force when smoothing the paint.
✳ Never start at an edge, such as a corner or mold, with a full paint roller. You will be left with a large amount of paint that will not disperse. Start about 6 inches from the edge and remove the paint from the roller. Then work toward the edge.
✳ Remove excess paint from the open end of the roller before rolling back to the wall to make it level. Do this by tilting the roller and applying a little extra pressure to the open side of the roller while rolling it up and down over the area you just painted.
Tools needed for this project
Get the necessary tools for this DIY project before you start - you'll save time and frustration.
✴ Bucket
✴ roller brush
✴ paint scraper
✴ putty knife
✴ Rolling shutter
✴ Roller sleeves
✴ Threaded wooden handle
Materials needed for this project
Prepare all materials ahead of time to avoid last minute shopping trips. Here's a list.
✴ Paint
✴ Painter's tape
✴ Primer