What are the Precautions for the Renovation Of Old Furniture?
Jun. 04, 2021
As a Paint Brush Wholesale, I would like to share with you the precautions for refurbishing old furniture.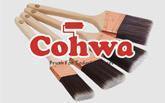 Paint Brush
When refurbishing old furniture, you should know why it is necessary to refurbish old furniture. From the perspective of environmental protection resources, refurbishing old furniture is a resource-saving approach. If a piece of furniture is obsolete, Buyers do not like obsolete furniture, so this old furniture may be discarded by the owner of this furniture. If every furniture user has this kind of thinking, then there will be a serious waste of resources. This kind of non-environmental protection practice, although this does not directly bring about environmental protection impact, it has indirectly brought about environmental protection impact.
The method of painting old furniture is relatively simple, but the original surface should be polished before painting, and the original paint surface can be removed, which can be done with emery cloth. There are many issues that need attention in refurbishing old furniture. The first is the choice of color. It is best to choose a color that is the same or similar to the original color of the old furniture, otherwise the effect of the refurbishment may not be very good. The choice of paint is also more important, because furniture renovation is generally carried out indoors, so we must choose environmentally friendly paint to avoid pollution to the indoor environment.
Our company also has Paint Brush on sale, welcome to contact us.