How to Maintain Your Brush After Use?
Sep. 03, 2021
If you fail to take care of your brushes after use, whether it is paint brushes or roller brushes, it will not only accelerate their aging, but also affect your next use. So ensuring that your paint brushes are properly cleaned and stored will benefit you a lot. As a brushes manufacturer, I will share with you how to take care of your brushes.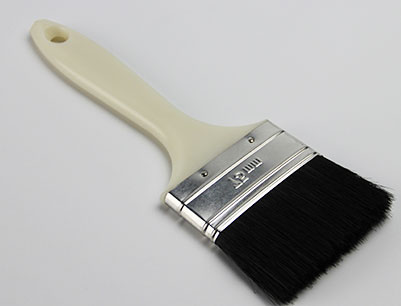 Paint Brush
---
Remove Excess Paint
Remove any excess paint from the brush or roller before it dries. This will help ensure an easier cleanup and improve the life of your equipment. When you've finished using your paint brush, squeeze the bristles against the edge of the paint-can lip to draw out as much moisture as possible. You can also use old newspaper or cloth to wipe off the paint. In short, remove as much excess paint as possible before cleaning.
---
Cleaning the Brush
Clean Water-Based Paint
The best way to remove water-based paint is to use a mixture of soap and water. During this process, you can wear rubber gloves to prevent soiling your hands. Pour the soap mixture into the brush first, taking care to always use warm water. Then rinse quickly. Continue to repeat this process until the brush is out of paint.
Clean Oil-based Paint
You will need to use a solvent, like mineral spirits or denatured alcohol, for most oil-based paints.
But oil-based paints often leave an oily residue in your brushes, even after cleaning them in mineral spirits. In this case, to get rid of the residue, try washing your brushes in a cheap shampoo. Not only does this remove the oil, it also cleans out the last traces of colour.
Notice
1. Whatever you do, avoid soaking the brushes in water because this can harm the bristles.
2. For the paint brush, after cleaning your brushes, try to go through them with a fine-toothed comb. This will remove any remaining paint particles and any loose bristles.
---
Dry the Brush
First of all, use a dry cloth or towel to pat the tool dry. Make sure that the paint roller and brush keep their shape when they are dry. But remember not to dry the drum inside or at the end of the container, as this will cause it to deform.
---
Storage of the Brush
For the paint brush, it's best to store brushes in a vertical position, with the bristles pointed up. This will help avoid any curling and keep them in their original shape. However, rollers tend to attract dust and lint particles and should be placed inside a plastic bag when not in use. Never place the roller in storage until it's fully dried.
You can wrap them in a plastic bag, fix them with rubber bands, and hang the brushes on hooks or nails. Next time you need to use them, they will be very clean and most importantly, the bristles will not be deformed.
Cohwa has the paint brushes of high quality for sale, welcome to consult!