How to Choose the Right Paint Brush?
Aug. 06, 2021
Choosing the right brush can play an important role in your next project. Paint Brushes Supplier's shelves are full of many choices; how do you know which brush to choose? The most important factor in determining which brush is best for your project depends on the type of paint you use.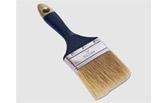 Bristle Paint Brush
Oil-based paint
Natural bristles are the best choice for oil-based paints, varnishes, shellac, alkyd enamels, colorants and polyurethanes. The best quality bristles come from mainland China. Experienced traditional painters would say that nothing can compare to the effect that Chinese bristles brushes provide for oily paint. If you want to paint a smooth surface, please use white Chinese bristles to get a smooth surface, or if you need to get a finer surface, it is recommended to use Chinese bristles mixed with cow hair. When painting textured surfaces, black Chinese bristles work best because they are slightly harder and are very suitable for high-productivity applications. If you need to paint on rough surfaces, natural bristle brushes are not recommended. Rough surfaces can break the tips of natural bristles and damage the brush. A synthetic, firm brush that uses oil-based paint, even because it is very durable and will resist the abrasion of rough surfaces is best suited for this application.
Water-based paint
It is recommended to use synthetic brushes for latex and acrylic paints and water-based wood paints. Synthetic brushes have a variety of filaments, including nylon, nylon/polyester blends and polyester. Nylon brushes are very durable, but may become soft in hot weather or after prolonged use in latex paint. The polyester brush will maintain its shape and control when heated, but the paint absorption and yield are lower, which means you will spend more time loading the brush instead of the wall. In addition, today's paints contain more acrylic resins and fast-drying solids, which can stick to polyester, making them difficult to clean and limiting the life of the brush. The methyl nylon/polyester blend brush combines all the nylons that are by far the most popular choice of professional brushes due to its versatility, positive quality (precise tipping, excellent paint pick-up and finish) and Polyester (additional stiffness and control) and.
Our company also sells Bristle Paint Brush, welcome to contact us.